Catering Menus
"When you are having an important Catering event in Houston, we are the people to call."
My Catering Company.com has created menu options with every customer in mind.
We offer the following options;
Drop Off Specials on Selected Items
Amazing Updated Single Option Menus
Salad
Choice Two (2) Entrées
Choice Two (2) Sides
Freshly Baked Rolls
Freshly Brewed Ice Tea and Water
White Ceramic Plates
Heavy Style Kyle Silverware
Water/Ice Tea Goblets
Tuxedo and Bow Tie Uniform Staff
Other Options Are Available With Hors D' Oeuvres Included With a Pass Around Option at NO Charge.
* Price available only for Drop Off Service
SAMPLE MENUS
Chicken Manhattan
Breast of Chicken stuffed with spinach artichoke and topped with a creamy mushroom sauce.
Chicken Vesuvio
Chicken, mushrooms, peas & bacon prepared in our creamy rosa sauce.
Steak Chimichurri
Choice sirloin marinated and grilled then topped with a South American style pesto
Lemon Beurre Blanc Chicken
Pounded chicken breasts lightly floured and sautéed with capers and artichokes lemon Beurre Blanc sauce.
Chicken Florentine
Breast of chicken pounded and rolled stuffed with spinach and topped with a creamy Alfredo Sauce.
Chicken Dijonnaise
Breast of chicken served with a white wine, Dijon mustard herb sauce.
Rosemary Brandy Roasted Pork
Loin Rubbed with special herbs and seasonings then oven roasted to perfection in a bath or brandy.
Sliced Beef Manhattan
Nice tender beef medallions topped with a creamy mushroom sauce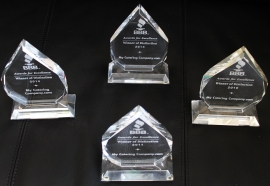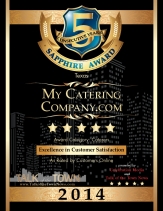 Houston Caterers - Since 2004
Copyright © 2014. My Catering Company.com LTD. CO - Catering in Houston TX. All Rights Reserved.